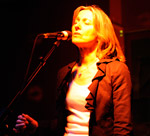 Hello . . .
'Catherine Howe was a Kate Bush before her time ... if you love pure female vocals look no further.' Barney Hoskyns, Observer Music Monthly
New recordings at Graeme Taylor's Cannon Hill Studio are in the throes of preparation with Ric Sanders, Vo Fletcher and Michael Gregory under the working title of Company.
Catherine's second history book Halifax 1842 (no need to explain its subject!) is to be published early in 2014. You might like YouTub 'Feels Like Christmas Day'.